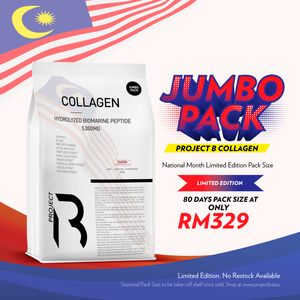 Project B Asia
National Special: JUMBO Project B Hydrolyzed Biomarine Collagen Peptide 5,000mg
Sale price Price RM329.00 MYR Regular price RM467.00 MYR
Tax included.
Shipping
calculated at checkout.
RFree Shipping to 12+ countries
LIMITED EDITION: 800g Jumbo Refill Pack
Quality Assured with 30 Days Money Back Guarantee
Refer a Friend and Earn RM50
PROJECT B Limited Edition JUMBO Pack
Serves 80 servings at only RM329 nett.
all units sold, no restock available.
Introducing the upsize of everyone's favouriate and our No. 1 Best Seller,

Product Specification:
Product - Project B Hydrolyzed Biomarine Collagen Peptide 5,000mg
Pack Size - Single Pack JUMBO Size
Nett Weight - 800g
Serving Size - 80 's
Limited Edition This National Month. No Restock Available
Seasonal Pack Size, to be taken off shelf once sold.
PROJECT B Collagen
Project B Collagen is a 100% predigested low molecular weight collagen micromolecules extracted from high quality biomarine sources from Italy. This trademarked proprietary blend is strengthened with 10 extracts captured under the trademark of Coll10+, capable to provide over 32 maximal benefits.

Full product information is available at https://projectb.asia/products/project-b-hydrolyzed-biomarine-collagen-peptide-5000mg
No Restock Available Once Sold.
Batch delivery starts 22nd August 2023.
Notice: Import shipment received, preorders are released on schedule. - completed.
Stock Level Update: Last few units stock left. Selling out soon.
Spice Up Your Supplement
PROJECT B range of unflavored supplements are designed for users to customize their supplement experience,
1. Personalize your supplement by pairing single or several products under PROJECT B for multiple functional boosts
2. Pair single/multiple B products under single consumption, mix well into any of your favourite food or drinks. Otherwise, conveniently pair it with our Project B 100% natural fruit booster series. 
Complement with these under our skin series
PROJECT B Bird Nest
Project B Bird Nest is formulated with Premium Grade of Bird Nest. Only the most important active components of the raw bird nest are extracted and compressed, complete with a final yield of 5 times more Concentrated than regular Bird Nest in every serving.

Full product information is available at https://projectb.asia/products/project-b-bird-nest 
PROJECT B UV White Dermal Brightening System
24 Hour round-the-clock action developed to deliver 2-In-1 Action of Skin Color Correction & UV Protection that effectively lightens body, facial skin tone & shields outer skin from harmful UV rays. This Extended Release Proprietary Formula developed with Double Performance, Better Efficacy, Longer Lasting Effect.
Full product information is available at https://projectb.asia/products/project-b-uv-white 
Experiment the fun with freezed dried fruits
PROJECT B Fruit Booster
Imported from Italy, the fruits are hand-picked in one of the largest fruit-growing area in Europe, delivering a natural and excellent taste and nutritional profile. These are preservatives free, no added sugar, sweetener or coloring, to keep the fruit juices in their most natural and nutritious form, designed to spice Project B's unflavored range of product. 
Full product information is available at https://projectb.asia/products/project-b-100-natural-fruit-juice-powder